Corn oil is produced from the germs of corn. It is extracted through cold pressing. Original corn oil contains vitamins C, A, K, D, E and the ones from group B, potassium, sodium, calcium, iron, magnesium and zinc and fatty acids (oleic and linolic). It is commonly used in food and cosmetic industry. It reveals strong antioxidant, nourishing and regenerating properties.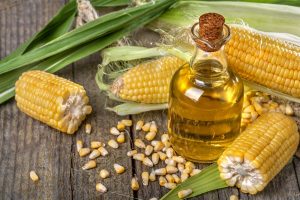 Every skin and hair type tolerates corn oil, regardless of age, sex, degree of dryness, length and hair porosity. The product can be applied in any way that we like. What properties does it have? Corn oil helps to tackle numerous skin conditions e.g. dandruff or psoriasis. It perfectly moisturizes dry scalp and hair as well as regenerates split ends. It also alleviates irritation caused by harmful weather conditions, impurities of the external environment or improper care and frequent styling treatments. Corn oil improves blood circulation in skin cells, strengthens hair bulbs and prevents premature aging processes. It hinders hair loss and excess sebum secretion by sebaceous glands.
If you want to have really strong, beautiful and healthy hair and scalp, corn oil must be applied in a proper way. Right before the application, heat up the product for aprox. 30 seconds. Next, rub the oil with your fingertips. A massage will allow for faster absorption of nutritional ingredients included in corn oil which will influence the hair almost immediately. You may also wrap your head with a towel – it will produce the heat which enhances oil's performance. After more or less one hour, wash the product away. You may as well add a small amount of the cosmetic to a hair conditioner or mask; these cosmetics must be washed away from the scalp and hair thoroughly.
Corn oil can also be used for face and nail care. A few drops of the oil are enough to moisturize body or face skin, remove dry cuticles, get rid of the feeling of tight and burning skin. If applied regularly, it will smooth fine lines and gently lighten discoloured skin. Massaged in nails before manicure, it will allow to remove the cuticles quickly whereas applied right after the manicure – moisturizes and prevents nail polish from falling off.